If you check the promotions tab on your email, you'll probably notice the sustainability reports are stacking up. Sharing those reports used to be a great way for an eco-conscious company to get brownie points with their customers. It was a grand gesture of transparency that aligned with business goals, a company's mission, and its branding.
But ESG (Environmental, Social, and Governance) reports are no longer exclusive to companies with "live naturally" etched into their identities. Over the last few years, major brands like Apple, Target and American Eagle have begun issuing annual impact reports. Walmart is now just as likely to have a sustainability program as a slow-fashion clothing retailer.
This is good news for the carbon accounting start-up, Watershed. The San Francisco-based company runs a carbon accounting software that helps companies measure, report, and make meaningful reductions to their carbon footprint.
"There is a confluence of pressure forcing companies to have to care about climate," says Watershed's engineering manager Megan Schoendorf. "Consumers, regulatory systems, stakeholders, the SEC – they are all adding pressure to do this. Just about every big company will have to have a climate program by the end of 2023 just to stay in good favor with public opinion."
Watershed's carbon data engine goes through every nook and crevice of a business's operations to identify emissions coming from their offices, their supply chain, and everywhere in between.
"We measure Scope 1, 2, and 3 of the Greenhouse Gas Protocol," says Schoendorf.
Here's a quick breakdown of what that means: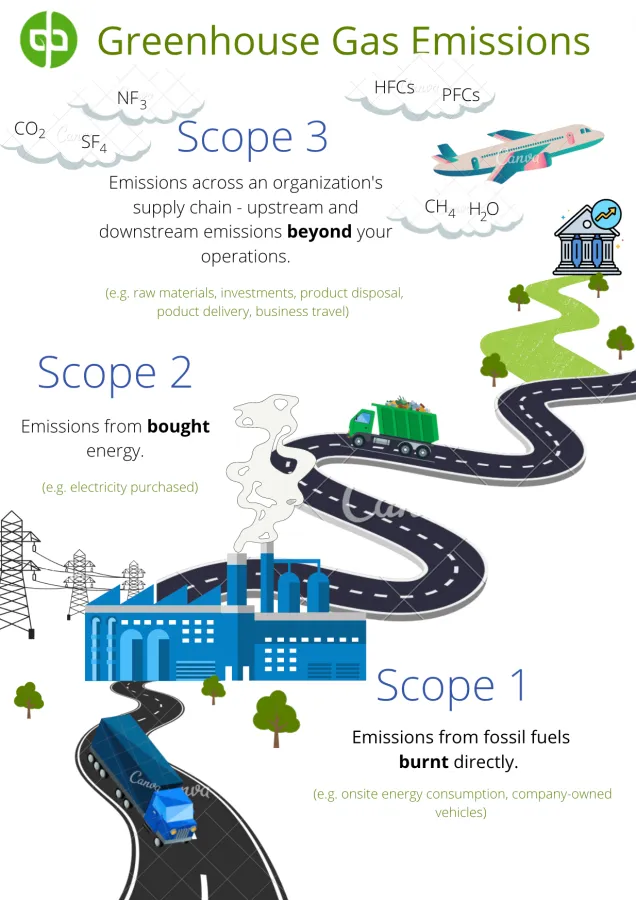 "Scope 3 is the global focus right now," Schoendorf says, and it's where Watershed was able to step in and help the nationwide restaurant chain Sweetgreen evaluate and manage its emissions.
With the help of Watershed's technology, Sweetgreen is building a transparent supply chain by tracking down the emissions associated with every single ingredient in its salads. Watershed and Sweetgreen work together to construct seasonal salads made with low-carbon ingredients like their popular Elote Bowl made with climate-friendly corn.
Watershed can also track carbon emissions down to specific vendors and work with them to make reductions. If companies like Sweetgreen can't find a vendor that meets their standards, Watershed will point them to the most sustainable source of a particular ingredient.
Not every company Watershed works with has needs that are so straightforward.
According to Stacy Kauk, Director of Shopify's Sustainability Fund, Watershed helped them upgrade their carbon inventory. Shopify works with thousands of suppliers around the world, and Kauk says their scope 3 emissions are "the gnarliest data beast to untangle."
After combing through Shopify's supply chain data for almost six months, Watershed was able to produce a complete snapshot of their Scope 3 footprint. Now Shopify can make quick reports and work on clear and meaningful reduction plans.
---
Looking Forward
2022 has been a big year for Watershed. They won some big logos which they'll be announcing soon, and their engineering team tripled in size to meet flourishing demand. But Schoendorf says Watershed is looking forward to next year.
"2023 is going to be the year of measurements," she says. "Every company needs to have a climate program. So many are going to be going through their first measurement."
This change in what we think companies should be doing for the planet isn't going anywhere. Gen Z consumers are getting older, earning more money, and spending it where they see impact potential. A November 2021 study found that 75% of Gen Z'ers consider sustainability to be more important than a brand name when making purchasing decisions.
Soon it may even be the law. For large companies in the UK and Europe, ESG disclosure is already required.
Watershed is riding those tailwinds to launch Watershed Finance, a new climate toolbox to serve the 292 (and growing) asset managers with net-zero targets.
"A big reason a company in the finance space will need a climate program is that folks who work in finance have to disclose what they are doing with their money. Blackrock has said they truly believe that if their portfolio is exposed to climate risk they will not be successful. Because if a company is too reliant on fossil fuels, and fossil fuels become expensive, those companies will fa­­­il." Schoendorf also points out that working with asset managers is a big shortcut for them. Win one over and "instead of measuring one person, we measure many."
---
Opportunities
There's a lot going on at Watershed to be excited about. For folks who are curious about what it's like to work there, Megan only has great things to say. 'It's one of the best places I've ever worked. We keep engineering teams small. We tackle problems and not specs. The data science team is using machine learning to create models that do a better job of estimating things and do more deep measurement."
If you're new to the climate space but want to help companies make a more meaningful climate impact, then check out Watershed's careers page. They have 39 open roles in London, San Francisco, or remote work options.