The biggest thing to happen in climate this week took place thousands of miles away from the floundering clown car rolling out of COP27 negotiations at Sharm el-Sheikh.
More than 100,000 workers were laid off from major technology firms this week as an economic slowdown turns into a recession.
But as several news outlets have suggested, many of these workers possess the very skills required to accelerate and commercialize climate technologies.
That's why we're going to be doing something different in this week's newsletter.
Over the past year, Climatebase has gathered data from over 42,000 climate jobs posted on our platform and from hundreds-of-thousands of users looking to pivot into climate.
Our research gives us a unique vantage point on the employment opportunities at climate organizations who are poised to benefit from a historic realignment in the job market toward climate action.
There are many questions around how jobseekers will find their place in the climate economy: which skill sets do climate companies need most? Will workers have to re-train or acquire new skills to advance climate solutions? Will the transition to a sustainable economy produce equitable outcomes for communities that have historically been left out of technology, or exploited by the energy sector?
Each of these questions deserves a report of its own. In the coming weeks we will delve into these and other topics in detail, utilizing insights from leaders in the space and the unique data we have gathered from our platform and community of users over the past two years.
In this edition, we're going to look at the opportunities for workers in the tech sector who have suddenly found themselves with idle hands and an appetite to do something other than the devil's work. If that sounds like you, or someone you know, here is what you need to know about your next role fighting climate change.


Who are Climate Companies Looking for?
A common misperception around working in climate is that it requires a background in specialized skills built on years of advanced education, such as atmospheric science or conservation biology.
But our data shows that the most in-demand roles at climate companies are focused on developing and scaling climate tech solutions. Business development, marketing, software engineering and data science each far outranked climate sciences for roles in demand among the nearly 3,000 companies on our platform.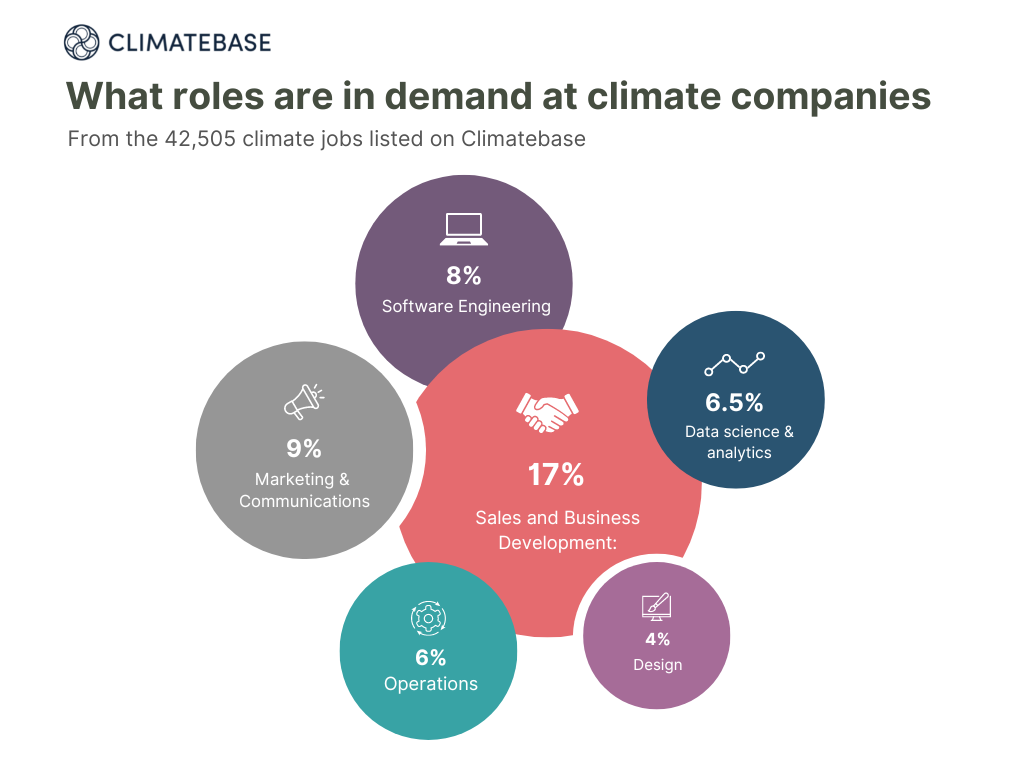 That should help assuage the main concern climate jobseekers have.
In a survey of nearly 3,000 Climatebase users, just over half (54%) told us that the main obstacle they thought was keeping them from working at a climate company was a lack of professional experience or education in climate.


Not-so-Risky Business
Another concern holding back some jobseekers from jumping into climate tech is a lingering perception that working at a climate tech start-up is a risky proposition.
And who's to blame them?
Venture funding is retreating ahead of what looks to be a global economic downturn. And if COP27 is any indication, climate action is falling behind as a priority for policymakers whose political fortunes are tied to the vexing price of gasoline.
But despite the worrisome economic and political outlook, climate venture funds and start-ups appear to be well-positioned to withstand the recession.


Plenty of Dry Powder
Climate Tech VC found that in spite of a slowing economy and lingering effects of the pandemic, climate funds have raised more than $64 billion in 2022, building on the $37 billion from last year.
Most of that money is waiting to be spent. CTVC estimates that the 132 climate funds they track are holding $37 billion in dry powder for climate companies, dwarfing the roughly $6 billion they have already invested so far this year.
Those are encouraging numbers, but they pale in comparison to the influx of investment coming from the Inflation Reduction Act. As Robinson Meyer noted earlier this year, the IRA could deliver $1.7 trillion in climate investments over the next decade. Many of the tax credits for electric vehicles and clean energy in the IRA are "uncapped", meaning Congress hasn't put a limit on how much funding companies that comply with requirements can receive.
In short: funding for climate companies is here to stay, and where there's funding, there are jobs.


A Wave of Diverse Talent
Some climate job seekers express an understandable concern over the lack of diversity that has historically plagued the broader technology sector.
Yet our data shows that opportunities to work on climate solutions are attracting interest from an increasingly diverse workforce.
Of the nearly 2,000 applicants to Climatebase's most recent Fellowship cohort, more than half identified either as women or non-binary, while 56% of applicants identified as members of an ethnic minority.
These numbers are an encouraging sign that the future of climate tech may stand to be more inclusive than some of its Silicon Valley forebears.


Mobilizing Tech Talent
Addressing climate change will require systems-level change to whole sectors of our economy. Yet these changes don't necessitate an entire reskilling of the workforce.
On one hand, some sectors are currently facing a shortage of high-skilled laborers needed to scale the deployment of some of the most critical solutions.
However, our data shows that for climate tech, there is no shortage of available talent possessing the skills needed to fill the most in-demand roles. Indeed, mobilizing readily employable tech talent to work on climate may be one of the lowest hanging and highest impact opportunities we have to accelerate solutions.
The migration of tech talent moving into climate may be the definitive signal to business-as-usual industries that workers of the future — and today — won't toil away while the world burns.





🌎 Climate Jobs

Check out some of the latest featured jobs below. If you don't see anything that speaks to you, you can always go to Climatebase to explore thousands of other opportunities.



"Othersphere identifies the most profitable and sustainable locations for deployment of zero / low greenhouse gas industrial technologies.  ..."

Chief Technology Officer (Remote)
"The Hollyhock Foundation seeks to create a more just world through its investments in education, climate change mitigation, and journalism.  ..."

Climate Program Manager (New York, NY, USA)
"Big Clean Switch works with businesses of all sizes, from household brands like IKEA, Tesco and Sky to independent retailers, to help them save money and cut carbon.  ..."

Household Energy Services Manager (14a Commercial Road, Bournemouth, UK)
"MCE is a not-for-profit public agency that has set the standard for clean energy in our communities since 2010. We offer more renewable power at stable rates, significantly reducing energy-related greenhouse emissions and reinvesting millions of dollars in local energy programs.  ..."

Program Manager- Transportation Electrification (San Francisco Bay Area, CA, USA)
Senior Legislative Analyst (San Francisco Bay Area, CA, USA)
"Neuterra is a Black Indigenous People of Color (BIPOC), women-owned e-commerce startup that provides the most transparent way to shop for a planet with finite resources. We go beyond the carbon label and enable our customers to make the most informed buying decisions for a climate safe future.  ..."

Founding Engineer (Remote (Maryland, USA))
"Climeworks empowers people to fight climate change by permanently removing CO₂ from the air with direct air capture technology.  ..."
They are hiring across the following departments:
Chemistry
Plant Design
R&D
Sales
Operations
Process Engineering
Project Management
Finance
Manufacturing Engineering
Civil Engineering
People & Culture
IT
Electrical Engineering
Marketing
Accounting
Data Engineering
Internships
Legal
Physicians for Social Responsibility
"Physicians for Social Responsibility (PSR) is an independent 501(c)(3) nonprofit organization working to create a more healthy, just, and peaceful world. ..."

Policy Coordinator, Environment & Health Program (Remote)
"At Waterplan we work in long term water security within the context of climate change adaptation. Waterplan is a fast growing startup in the Climate Tech Space that develops a SaaS platform for companies to manage water availability in their facilities.  ..."

Senior DevSecOps (Remote (Argentina))
Senior Fullstack Developer (Buenos Aires)
CS Support - Ssr Fullstack Developer (Remote (Argentina))
Partnerships Specialist (Remote (China))
Senior Customer Success Manager (Remote (US))
Senior Enterprise Account Executive US (Remote)
"YourStake.org shows people the social and environmental impact of their investments, and how to improve. We help financial advisors walk people through a sustainable investment journey by providing superior analytics. ..."

Early Career Salesperson (Remote (United States))
Business Development Representative (Remote (United States))
Backend Engineer (Remote (United States))
Senior FullStack Engineer (Remote (United States))
Product Manager (Remote (United States))
UI/UX Designer (Remote (New York City, NY, United States))
"We are designing waste out of the human experience. Pela has been around for over 10 years and has helped over 1 million customers make the switch to more eco-friendly products. Their newest product, Lomi, helps reduce waste in households and restaurants  ..."

UX/UI Designer (Remote (Kelowna, BC))
Product Manager, Mobile (Remote (Kelowna, BC))
Manufacturing Manager (Remote (Kelowna, BC))
Lead web Developer - Frontend (E-Commerce) (Remote (Kelowna, BC))
Lomi Customer Experience Technical Specialist (Remote (Kelowna, BC))
Videographer (Remote (Kelowna, BC))
Mobile Software Engineer - Android (Remote (Kelowna, BC))
"RMI is an independent nonprofit founded in 1982 that transforms global energy systems through market-driven solutions to align with a 1.5°C future and secure a clean, prosperous, zero-carbon future for all. We work in the world's most critical geographies and engage businesses, policymakers, communities, and NGOs to identify and scale energy system interventions that will cut greenhouse gas emissions at ..."

They are hiring across the following departments:
Climate & Sustainability
Multiple associates focused in: Water, Energy, Cooling, Mobility, and Carbon Dioxide Removal
Summer 2023 Internships
Finance
Data Scientist
Policy
Content Writing & Editing
Communications
Marketing
Operations

Software Engineering
Carbon Markets
"Capture6 develops and commercializes highly-scalable approaches to permanently removing carbon dioxide from the atmosphere in a way that is easy to verify and audit.  ..."

Project Finance Manager (Remote (San Francisco Bay Area, CA, United States))
Special Projects Associate (Remote (San Francisco Bay Area, CA, United States))
Technoeconomic Analyst (Remote (San Francisco Bay Area, CA, United States))
Chemical Process Engineer (Remote (San Francisco Bay Area, CA, United States))
Associate - Business / Data / Operations (Multiple Positions) (Remote (San Francisco Bay Area, CA, United States))
"The Center for EcoTechnology helps people and businesses save energy and reduce waste. We make green make sense. We work with partners throughout the country to address climate change by transforming the way we live and work – for a better community, economy, and environment.  ..."

Marketing & Communications Coordinator - Bilingual, Hybrid (Remote (Springfield, Massachusetts))
Waste Reduction Consultant - Field Based NY (Remote (Syracuse, New York))
Waste Reduction Consultant - Field Based CT (Remote (Bridgeport, Connecticut))
Energy Consultant - Commercial Focus Field Based (Remote (Remote, Massachusetts))
Sales Department Manager - Commercial Energy & Environmental Consulting - Remote (Remote (Remote, Massachusetts))
Retail Associate - Personal Shopper (Remote (Springfield, Massachusetts))
Director of Projects and Program Management (PMO) - Remote (Remote (Remote, Massachusetts))
"Rondo Energy's mission is to eliminate 15% of global CO2 emissions in 15 years. To accomplish this mission, Rondo is deploying low-cost, zero-carbon Rondo Heat Batteries to accelerate the deployment of renewable energy and to significantly decarbonize industrial processes that are commonly thought of as "difficult-to-decarbonize". ..."

Contracts Attorney (San Francisco Bay Area, CA, United States)
Technical Writer (Alameda, CA, United States)
Senior Mechanical Design Engineer (Alameda, CA, United States)
Manager, Mechanical Engineering (Alameda, CA, United States)
Project Finance Analyst (Remote (Alameda, CA, United States))
"Logical Buildings is the leading smart building software and solutions company empowering the nation's largest Multifamily and Commercial real estate managers to reduce energy and operating costs, achieve sustainability goals and improve tenant comfort.  ..."

ESG Analyst (Livingston, NJ, USA)
"Afresh is on a mission to reduce food waste and increase access to nutritious food globally by transforming the fresh food supply chain.  ..."

They are hiring across the following departments:
Software Engineering
Product Design
Data/ML Engineer
Sales
Data Analyst
People/HR
Product Manegment
"Kaluza is the intelligent energy platform enabling the world's largest energy companies to lead the way in the energy transition. From revolutionizing energy retail operations to smart electric vehicle charging, our software is empowering energy suppliers to deliver market-leading experiences for their customers and drive decarbonization.  ..."

They are hiring across the following departments:
SoftwareEngineer
Communications
Writing
Sales