The Intergovernmental Panel on Climate Change (IPCC) issued its summary report this week and the bottom line has a familiar ring: the situation is dire, we have the technology to make a big difference, but institutions have to act now.
The synthesis of the Sixth Report analyzed five years of previous reports on climate impacts, global temperature rises and fossil fuel emissions. The final product provides a lucid picture of the state of the climate but has some familiar warts.

Among several shortcomings of the IPCC publication process are the persistent influence of petrostates, and other interested parties, in attenuating language around emissions goals– and this edition was no exception.

One graph in particular has become the social media star of the report: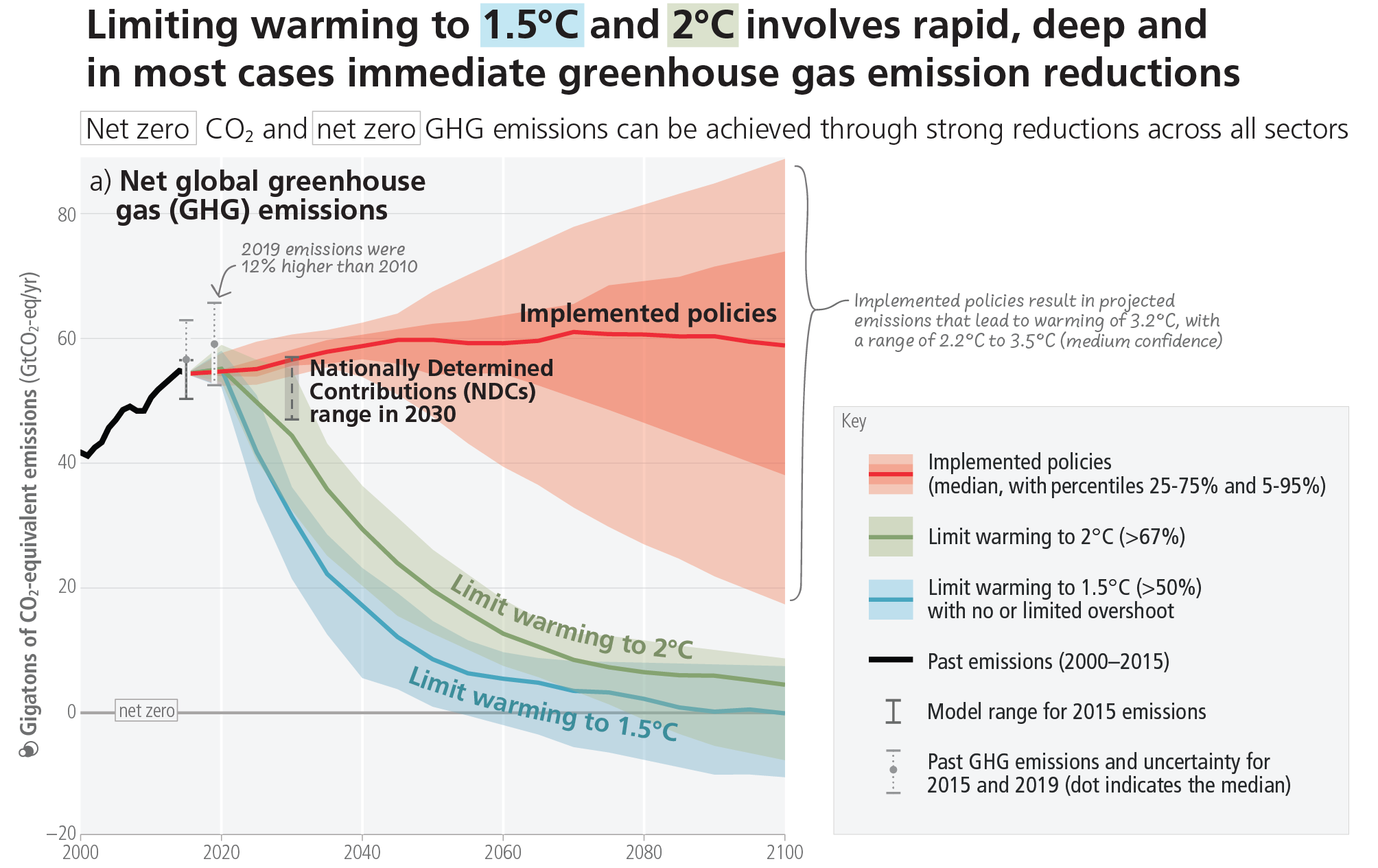 The figure gives an intuitive sense of just how drastic our emission cuts have to be to get from here to a livable future, but it still doesn't tell the whole story.
Buried in a footnote was a little clause that pointed out a stark reality: despite the progress made in recent years, even low-emission scenarios levels could result in more than 4°C if feedback loops kick in sooner than the worst-case scenario.
(Reminder: a >4 degree scenario would not make everything four degrees hotter– it would turn most regions of the planet into a hellscape and send humanity much further in the Mad Max direction.)
Still, the solutions-oriented mind will look at the same picture and wonder where the biggest opportunities lie for impact.
That's why now might be an appropriate time to remember that the IPCC does not account for the emissions from the world's military operations, estimated to make up a solid 5-6% of the world's total carbon pollution.
That accounts for a massive emissions gap in the scenarios based on Nationally Determined Contributions (NDCs), which could drive a wedge even further between our most optimistic climate scenarios and the reality that lies ahead.
Given the stakes, the time has come to take a serious look at how much longer the planet can afford to keep the carbon impacts of war in the shadows.


The Military Carbon Complex
Carbon emissions stemming from military activity have largely been a mystery since 1997, when the United States successfully lobbied to have them excluded from the Kyoto Protocols. The argument then was that disclosures of military energy use could present a national security concern. Beyond that age-old excuse was a shared feeling that countries should not be pressured to limit their national defense capabilities for the sake of a distant problem.
That blanket exclusion ended with the 2015 Paris Accords, which made military emissions reports voluntary, although few countries have followed up with reports on the carbon intensity of armed forces.
In fact, under Paris, only 43 countries (known as Annex-1 countries) are obligated to submit their national yearly emissions, so even if military carbon accounting was mandatory, countries such as China, India and Saudi Arabia would still be excluded.
Finally, even countries that do report their military emissions, such as Canada, often mix them in with civilian activities and keep covert operations out.


The Case of Ukraine
Unfortunately, a real-time case study on military emissions is unfolding in Ukraine.
One group of researchers has compiled an extensive study on the war's carbon impact, and puts the current total at 155 million metric tons (on par with the Netherlands annual emissions). Their analysis studies everything from fuel used in combat operations, to the estimated 48,670 tons of CO2e emissions resulting from concrete production to rebuild devastated cities.
Zoom out from the battlefield, and the climate impact of the Ukraine war is more nuanced.
Energy politics are one of the key reasons behind the war in Ukraine, and Europe has responded to Russia's aggression by pledging to replace Russian gas with renewables. Those decisions will help set Europe on a low-carbon path and indeed, heat pump sales have exploded in Europe while energy consumption has gone down on the strength of a curiously warm European winter.
Those are positive trends, but even a thoroughly data-driven estimate on Ukraine emissions doesn't account for the war's far-reaching geopolitical effects that impact the climate.
American and European participation in Ukraine has put China on guard over its claim to sovereignty in Taiwan. The United States has promised to commit armed forces to Taiwan if China were to launch an incursion on the island and in light of America's commitment to Ukraine, there's an increased awareness in Beijing that the potential for conflict is real.
Consequently, China has ramped up its military exercises around the island of Taiwan. Those exercises will entail unreported emissions, as will the American shows of force that have and will come in response.


Mutually Assured Decarbonization
Wars have many unintended consequences, and local climate solutions are one of them.
From the rubble in Ukraine, one company is trying to recycle some of the millions of tons of concrete waste produced by widespread shelling. They're expecting a shipment of new solar-powered cement separators developed in the Netherlands that could put a dent in demand for new cement.
On-the-ground efforts like these are an admirable show of human hardiness, but obviously won't come close to tapering the carbon intensity of an increasingly militarized planet. Bringing military emissions down will ultimately depend on getting countries to decarbonize without feeling that they are setting themselves up to be taken advantage of by geopolitical foes.
One solution might lie in recent history.
Throughout the Atomic Age, the prospect of nuclear war threatened to annihilate the human population if it was ever carried out. One of the principal reasons the threat never materialized was that the United States and USSR understood the endgame of a nuclear exchange would be mutually assured destruction for both sides.
If there's one thing this week's IPCC report makes clear, it's that carrying on on our current path will create an unstable climate for every corner of the globe. The ensuing destruction for all nations will lock in more global conflicts and wars, each rendering further devastation and contributing to the climate crisis.
Seen this way, carbon-intensive military maneuvers are in direct conflict with near-term security goals for everyone involved. Every militarized conflict resolved diplomatically avoids carbon emissions that would otherwise contribute to the resource wars of the future.
A more straightforward first step might also be simply pledging to disclose the true extent of military emissions. Doing either or both would help keep emissions scenarios in closer touch with reality and could also provide the world's militaries with an incentive to innovate in climate tech.


🌎 New Climate Jobs


Check out some of the latest featured jobs below. If you don't see anything that speaks to you, you can always go to Climatebase to explore thousands of other opportunities.

"At Evergrow, we seek to build and sustain a carbon-neutral world. We're fulfilling this mission by making financing accessible for those creating low-carbon infrastructure and technology (e.g., wind, solar, renewable natural gas). The new climate bill passed by Congress last summer is a game-changer for renewable energy project developers, and we are building solutions to ensure they can take ..."

Lead Designer (San Francisco, CA)
"Reunion's mission is to accelerate investment into renewable energy. We are building a marketplace to connect buyers and sellers of renewable energy tax credits to easily raise money for wind, solar, and battery storage projects. Project developers can easily access pools of capital from high quality corporate investors for their project portfolios. Corporate investors can buy tax credits to achieve a ..."

Manager, Growth (Remote (San Francisco, CA, USA))
"We created a new green employee benefit called a Carbon Savings Account ™ (CSA), structured similarly to a health savings account (HSA). Instead of using the funds for eligible healthcare expenses, employees use the funds for eligible home technology upgrades that reduce their utility bills, and therefore their carbon footprint. Scope Zero is an investment vehicle that can scale residential ..."

Founding Full-Stack Engineer (Remote (San Francisco, CA, USA))
"Wilmot Inc., Nashville's premier sustainability consulting firm, is a certified small and women-owned business. Since 1994, Wilmot has approached every project with an understanding that economics and ecology are fundamentally linked. For the past 29 years, we have helped promote client's growth by guiding project design in ways that incorporate methods and planning considerations aligned with the principles of sustainability. ..."

Field Technician (Nashville, TN, USA)
Sustainability Associate (Nashville, TN, USA)
Project Manager, Experienced (Nashville, TN, USA)
"Founded on the eve of the Paris Agreement in 2015, we are a global non-profit think tank working on the cutting edge of climate and sustainability issues. Our mission is to facilitate ambitious action by corporations and governments globally to address the climate and biodiversity crises. We do this by generating innovative analysis for use by investors, corporations, policymakers, campaigns, and ..."

Digital Communications and Events Officer, Climate Change, US based (Remote (United States))
Digital Communications and Events Officer, Climate Change, UK based (Remote (United Kingdom))
"Contingent's AI-driven approach to risk enables multinational organisations to understand how and where political, human rights and environmental risks impact their reputations and supply chains. ..."

Sustainability Lead (London, UK)
Sustainability consultant (London, UK)
New York City Energy Efficiency Corporation (NYCEEC)
"The New York City Energy Efficiency Corporation (NYCEEC), the country's first local green bank, is a non-profit specialty financier of projects that save energy and reduce greenhouse gases. NYCEEC's team is passionate about its mission to deliver financing solutions and advance markets for energy efficiency and clean energy in buildings. ..."

Associate (Clean Energy Finance) (1359 Broadway, New York, NY, USA)
"Amply is an early-stage software startup making complete electrification easy for homeowners and installers. Our mission is to enable 100M homes across the U.S. to be reliably comfortable, healthy, and affordable for people and the planet. Electrification today requires homeowners to navigate a gauntlet of complex and frustrating steps. Piecemeal retrofits of heat pumps, solar, weatherization, electrical panels, water heaters, EV ..."

Software Engineer (Mobile) (Remote (Portland, ME, USA))
Sr. Software Engineer (Web, Full-Stack) (Remote (Portland, ME, USA))
"Headway Cooperative is the world's first climate tech co-op. We are 100% developer owned and operated, providing mission-driven software development for data-centric businesses solving climate change. ..."

Data Engineer (Denver, CO, USA)
"The Environmental Law Institute (ELI) makes law work for people, places, and the planet. ELI's Vision is "a healthy environment, prosperous economies, and vibrant communities founded on the rule of law." ELI's Mission is to foster innovative, just, and practical law and policy solutions to enable leaders across borders and sectors to make environmental, economic, and social progress. ELI: Builds the skills and ..."

Director, Climate Judiciary Project (Washington D.C., DC, USA)
Senior Manager, Attorney Education (1730 M Street Northwest, Washington, DC, USA)
Director, Communications (1730 M Street Northwest, Washington, DC, USA)
Manager, Education Programs (Remote)
Project Manager, Climate Judiciary Project (1730 M Street Northwest, Washington, DC, USA)
"Carbon Direct is decarbonizing the global economy. What is Carbon Direct? We are a team of scientists, engineers, and innovators with a shared goal of reducing atmospheric CO2 by scaling carbon management. What do we do? We operate two distinct businesses: - Advisory & Software : We work with Fortune 500 corporate clients like Microsoft, Shopify, and Alaska Airlines to develop long-term carbon management plans. ..."

Design Manager (Remote (San Francisco, Seattle,, Remote))
Senior Product Designer (Seattle,Wa, Hybrid)
Engineering Manager (Remote (San Francisco, Seattle,, Remote))
Senior Frontend Engineer (Seattle,Wa, Hybrid)
Senior Backend Engineer (Seattle,Wa, Hybrid)
Creative & Brand Director (Seattle, San Francisco,, Hybrid)
General Application (Remote)
"Cement is responsible for about the same amount of greenhouse gas emissions as all of the cars on the road today worldwide. Cement has been widely considered one of the most difficult materials to decarbonize and has even been called out as the reason why we need point-source CCS. We have invented a way to make carbon-negative Portland cement that ..."

Sr. Chemical Engineer (Hydro) (Oakland, CA)
Technical Grant Writer and IP Specialist (Oakland, CA)
Laboratory Technician (Oakland, CA)
Internal Operations Lead (Oakland, CA)
Sr. Chemical Engineer (Pyro) (Oakland, CA)
"Kara is a software platform to empower investors and technology companies to achieve their climate and social goals. ..."

Software Engineer (Remote (New York, New York, United States))
Senior Software Engineer (Remote (New York, New York, United States))
Head of Engineering (New York, New York, United States)
"Sunstone Credit is democratizing access to solar for businesses. We provide flexible financing solutions for businesses and non-profits of all sizes, offering commercial solar loans with borrower-friendly terms and an efficient application process ..."

Associate, Financial Operations (Baltimore, MD, United States)
Compliance Manager (Philadelphia, PA, United States)
Credit Analyst (Philadelphia, PA, United States)
2023 Summer Intern (Baltimore, MD, United States)
Senior Software Engineer (Full-Stack) (Baltimore, MD, United States)
Director of Credit (Philadelphia, PA, United States)
Accounting Senior Associate /Manager (New York, NY, United States)
Product Manager (Baltimore, MD, United States)
Director, Business Development (West Coast) (Anywhere, CA, United States)
"Activate empowers scientists to reinvent our world and address climate change by bringing their research to market. The Activate Fellowship provides the funding, technical support, networking, community, and time that these scientists need at the outset of their entrepreneurial journey. Our team brings a diversity of experience and a deep track record to helping our fellows bridge the science-to-market gap. ..."

Development Manager (Remote)
Director of Business Operations (Remote (Berkeley, CA, USA))
"We're an early-stage startup that cares passionately about solving the climate crisis. We believe that forests are the most effective, safe, and scalable carbon drawdown solution. Our mission is to accelerate restoration of 3 billion acres of degraded lands to their native ecosystems, activating the most massive carbon drawdown effort on the planet. We help partners secure diverse native seed supply, tackle ..."

Carbon Certification Specialist (Remote)
Head of Carbon Strategy (Remote) (Remote)
Senior Accounting Manager (Remote) (Remote)
Business Development Manager - Capital Formation (Remote)
"Propagate is a software, development and financing ecosystem that makes it easy for farms to transition acreage to agroforestry. Our platform provides access to agronomic insights, technical assistance, and financing so that farms can reduce risk while integrating fruit, nut and timber trees with animal or crop farming systems. ..."

Frontend Software Engineer (Remote)
Opportunistic Hire (Remote)
Head of Finance (Remote)
Senior Software Engineer (Remote)
Sales Director (Remote)
"We're building the SunRun for building electrification. We help customers upgrade their homes with the latest comfortable, energy-efficient technology: heat pumps, mini splits, EV chargers, induction ranges, etc. ..."

Operations Ninja / Project Manager (Denver, CO, USA)
Home Comfort Advisor (Denver, CO, USA)
Field Sales Consultant (Denver, CO, USA)
Area Sales Manager (Denver, CO, USA)
Project Manager (Denver, CO, USA)
That's it for this week! Remember, you can always view thousands of more jobs on Climatebase.org.



Final reminders...
👋 Get discovered. Create a profile to have employers hire you.
🚀 Accelerate your climate career. Apply to join the Climatebase Fellowship.

🌱 Hiring? Post your jobs to reach over 200k monthly users users and over 70,000 newsletter readers
❤️️ Share a link to this week's edition

🐦 Let's connect! Follow us on Twitter @Climatebase, and our co-founders @evandhynes and @jhardin925